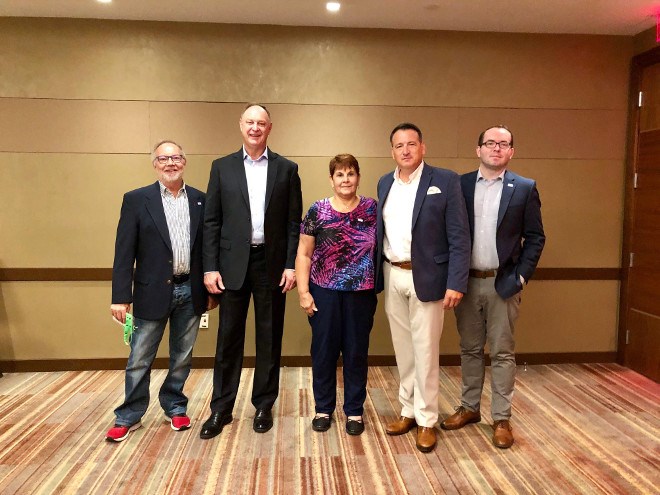 Fort Frances officials meet with ministers on paper mill and lumber supply
Province to develop strategy on how to share Crown timber supply needs in the Northwest
A delegation from the Town of Fort Frances met with two provincial ministers to discuss the future of the Fort Frances pulp and paper mill that has been put on hold and the Crown timber supply issues.
Mayor June Caul, Deputy Director General Doug Brown and two councilors met with Minister of Energy, Northern Development and Mines and Member of Provincial Parliament for Kenora-Rainy River Greg Rickford and Minister of Natural Resources and John Yakabuski Forests at the Association of Municipalities of Ontario annual conference in Ottawa.
An Aug. 20 statement from the city council said the two ministers "expressed their understanding of the city's concerns" over the recent sale of the former Resolute Forest Products plant site to Riversedge Developments and restrictive covenants imposed on the new buyer never to bring the property. back into commercial paper production.
Fort Frances wants Queen's Park to revoke Resolute's harvest license and allocate the timber allocation to potential new forestry players who will bring the plant back into production.
According to the statement, ministers pledged to work with the community of northwestern Ontario and other stakeholders in the region to design a process that will determine the current and future needs of the forest industry in the district.
Want to read more stories about doing business in the North? Subscribe to our newsletter.
For years, the town of Fort Frances has lobbied for an Enhanced Sustainable Forest Permit, a new model of forest tenure to ensure more local control over the region's Crown forests.
"The City understands that internal meetings are planned between the two ministries for next week and looks forward to sharing more information with the community when it is able to do so," the statement said.
"The City will continue to work with the province on this issue and looks forward to further productive discussions aimed at protecting key economic drivers in the Rainy River District.
Resolute closed the Fort Frances plant in 2014. City officials are attempting to prevent its demolition while encouraging the return of the plant site to its traditional manufacturing use. The new owners, Riversedge Developments, are launching the idea of ​​a large-scale cannabis farm.