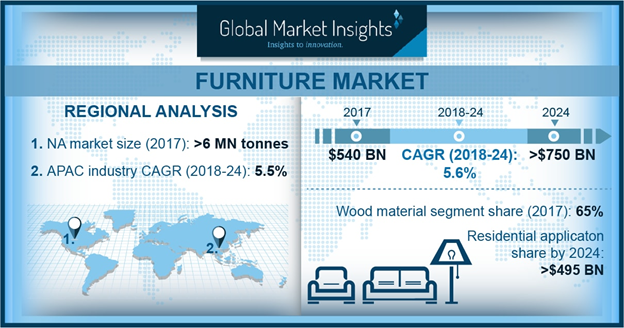 Wooden furniture dominates the global market with 60% market share
Wooden furniture dominates the global furniture market with a share of over 60% in 2017 and is expected to maintain its dominance. The size of the global furniture market is estimated to exceed $750 billion by 2024; according to a new research report from Global Market Insights, Inc.
Superior product finishes along with the availability of numerous wood options including mahogany, teak, redwood, fir, cedar and others are some of the key factors driving the growth of the wood furniture market. The preference for green buildings will positively influence product sales.
Rapid urbanization supported by high private and public expenditure in residential construction to accommodate the growing population will increase the global furniture market share. Rising demand for remodeling services in the developed economies of Europe and North America will drive the development of the industry.
The trend towards outdoor living and garden dining, supported by the increase in social gatherings, is increasing the demand for the outdoor furniture market. The increase in demand for outdoor dining will strongly support business development globally. Rising green and smart furniture product launches will create new growth opportunities during the forecast period.
Commercial application is expected to be the fastest growing segment in the global furniture market. Commercial application mainly includes offices, educational institutions, hospitality and the healthcare sector. Hospitality and educational establishments are among the major contributors to the growth of the commercial furniture segment. The increase in the number of tourists in the Middle East and Asia-Pacific, supported by a growing number of luxury hotels, stimulates the expansion of business.
Rapid commercialization along with increased household spending is driving demand from furniture companies in emerging economies. Rising service sector in developing countries propels the demand for office furniture. The geographical expansion of multinational companies along with the growth of the retail network will increase the share of the industry.
Asia-Pacific is expected to dominate the global furniture market, worth more than $400 billion by 2024. China, India, Japan, and South Korea are the major furniture markets in the region. The easy availability of raw materials and economic labor backed by the booming real estate sector fuels business income.
See https://www.gminsights.com/industry-analysis/furniture-market